If the market decline of 2022 taught investors anything, it's that what goes up might also come down. Some of the most hyped investments of the past two years did just that. Cryptocurrencies[8] and FAANG stocks[9] were all hit hard, with bitcoin falling below $17,000, about 75% lower than its high of nearly $68,000 in November 2021.[10] As investors have learned by now, cryptocurrencies can be extremely volatile. From a distance, bitcoin might appear to have enjoyed a steady climb through much of its existence. There were, however, major slumps: On three occasions since 2017, bitcoin has fallen by more than 50%, including the decline that extended into 2022.
The FAANGs also saw notable declines in 2022 (see Exhibit 2). The group of tech stocks lost a combined $3.2 trillion in market value—one might say the market was de-FAANGed. Facebook parent Meta Platforms, Amazon, Apple, Netflix, and Google parent Alphabet all lagged the broad US market, with Facebook and Netflix suffering particularly sharp losses. The group collectively underperformed the Russell 3000 Index[11] by more than 20 percentage points.[12] The slump came on the heels of a stellar decade—the FAANGs returned 28% per year from 2012 to 2021.
That reversal is a reminder that investors should be cautious about assuming past returns will continue. Even if a company with a track record of strong stock returns remains broadly successful, that may not translate to spectacular future returns. Excellence may now be what investors are counting on and not the basis for above-market returns. This point is borne out by looking back at stocks as they grew to become among the top 10 largest by market cap. On average, their performance lagged the performance of the broader market within a few years of entering the top 10.
---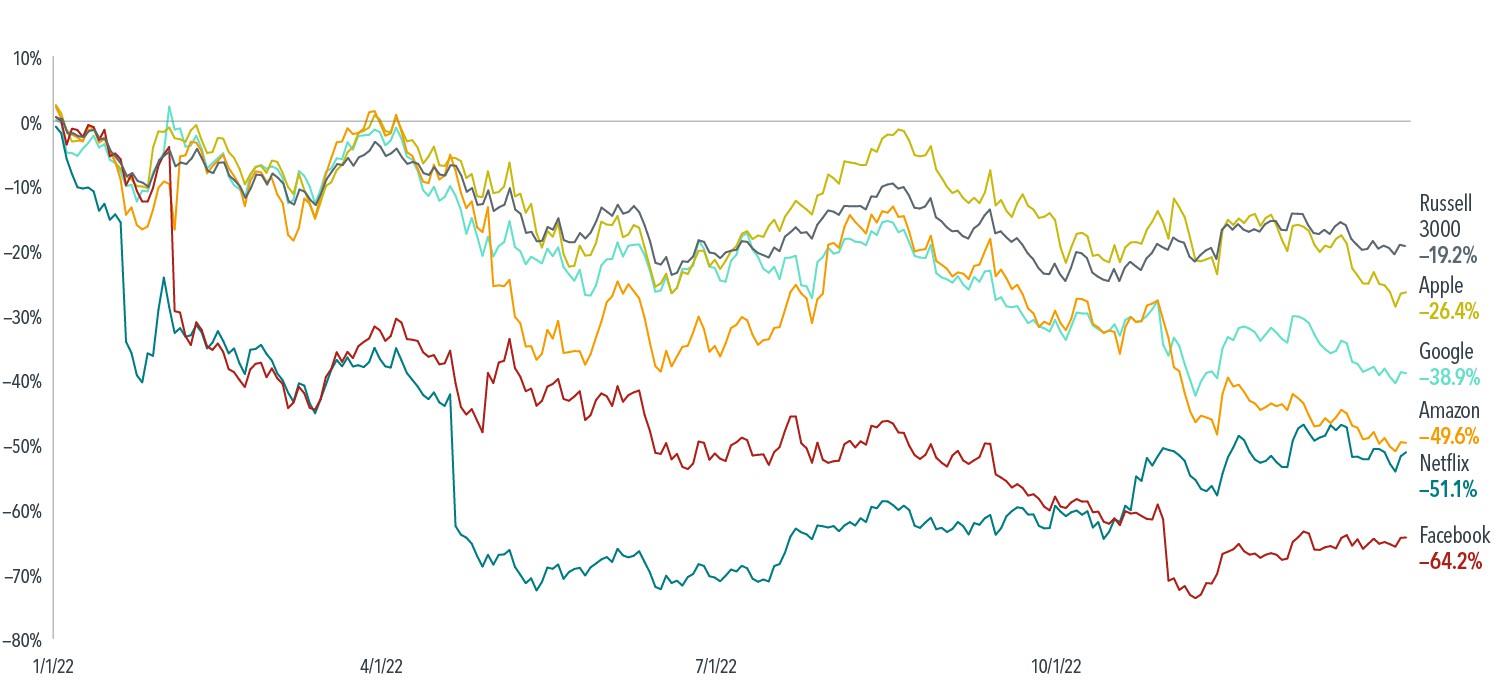 Exhibit Tech Giants De-FAANGed In USD. Cumulative returns, January 1, 2022–December 31, 2022. FAANG stock data source: Refinitiv. Facebook and Google now known as Meta and Alphabet, respectively. Frank Russell Company is the source and owner of the trademarks, service marks, and copyrights related to the Russell Indexes. Indices are not available for direct investment; therefore, their performance does not reflect the expenses associated with the management of an actual portfolio
---